Thursday, 10 December 2009
It is now almost halfway through the season, and the league table is starting to take shape, allowing us to see which clubs will be competing for honours in 6 months time, and which will be competing just to stay in the top flight.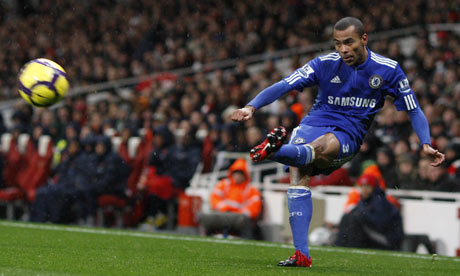 So far it definitely seems my prediction of Chelsea failure this season was wrong. I think I can safely say that Carlo Ancelotti has proven himself as a capable manager, getting Chelsea to play football that is not only effective but exciting and beautiful to look at. Even more of a pleasant surprise has been his willingness to play youth players and give the kids a go, something that most Chelsea managers have not done. It is especially important this year with a looming transfer ban over us to bring up the young and inexperienced players so they can shoulder some of the responsibility from ageing players like Lampard and Drogba.

Yes, there is no doubt that Chelsea so far have been THE team to watch in world football. But it remains to be seen whether they can keep it up, and frankly I'm skeptical, as I have seen all too often how easily this team caves in to pressure, and not many teams in the world have the kind of media pressure and scrutiny upon them as Chelsea do. It's a good start, but now starts the real test for the reign of Carlo Ancelotti.

Meanwhile we saw all the usual hallmarks of a Premier League season; Liverpool underachieving, Man U getting off to a slowish start, small crappy teams playing excellently (Stoke) and of course my favourite tradition, the fantasy that maybe this year, finally, Arsenals forever-young team will come of age and win the league.

Every single season without fail, Arsenal string together a good run of results where they pound a few poor crappy teams into oblivion with their silky passing and everyone starts tipping them for the title. The BBC and the Daily Mail this year ran articles about how Wenger's "Young" team (seriously haven't they been saying that for about 12 years now?) has finally come of age and looks better than anyone else, only for the myth to come undone whenever they play against a decent team and find that their brand of one touch football can't penetrate a half decent defence. In particular, the Yahoo recently released this now infamously mocked article about how Fabregas is the best midfielder in the world, despite not even being in the Spanish national team. They have found this time and time again this season with defeats away to Man Utd and Man City, and a crushing 3-0 defeat to Chelsea at their home ground.

Honestly, any self respecting Arsenal fan would do well to simply ignore all the media hype that comes out. The media love a good 'david vs. goliath' story with young kids beating the old experienced legends, and they are clearly pretty desperate for someone to come along and replicate the feats of the young, early 1990s Man Utd team. But this is simply not going to happen with this Arsenal team in the near future, and I'll tell you why.

It's true that Arsenal do go and buy a lot of good young talent. And note, "buy" as opposed to "bring up" or words to that effect; they always go and spend cash on buying young players at around the age of 20 as opposed to teams like Barcelona who actually bring up their own youth through the academy. Arsene Wenger has pulled this trick time and time again during his Arsenal career, but the problem is that with the increased competition from big spending teams like Man Utd, Chelsea (and perhaps soon Man City), these teams of youngsters just aren't good enough, and since they never win anything, as soon as these players hit a certain age they just run off to bigger clubs. See Thierry Henry running off to Barca, Hleb running off to Barca, Adebayor, Touré, all running off to Man City. Flamini running off to Milan, Ashley Cole moving to Chelsea. They all leave eventually, in search of trophies. Indeed it seems likely that current captain Cesc Fabregas will soon leave.

The problem is that in this world of big money and high stakes, Arsenal don't have anything to incentivise players to stay at their club, and this is why people like Kroenke and Usmanov have recently started trying to buy out the club with promise of big money to spend. Indeed it seems increasingly clear that if Arsenal want to compete for honours again they will need the money to spend on players and wages.

Few Arsenal fans will admit this (only the resectable ones), but it has been more than 6 years since Arsenal have won anything, and frankly changes have to be made. It astonishes me to see fans blaming Wenger and calling for his sack, but there is a large contingent of fans demanding just that. It's amazing, because Wenger is the only thing keeping that team together right now, and yet certain fans have built up all these delusions, fuelled by the absurd media hype, that their players and squad really are the best in the league, even though in reality they are nothing even close, instead squeaking by on the merits of their genius manager.

But it's not all doom and gloom for Arsenal. The exposition I have given so far indicates that Arsenal are simply a lot cause, with behind the scenes directors who do not recognise the current state of football and have yet to get with the times. But this is not really the case. The Arsenal bosses know that money is the reason that they are falling behind, but rather than seeking a 'sugar daddy' to blow cash on them in a reckless manner as in the case of Man Utd, Chelsea, Man City, Real Madrid, Inter Milan, and many other clubs now, Arsenal have sought a different method.

FIFA has recently begun to express concerns over the state of the finances for these spendthrift clubs, worrying that this might simply be a bubble waiting to burst and result in bankruptcy of the world's biggest football clubs and potentially leagues. Indeed this seems entirely possible, if just by comparison with other similar money spending booms that we have seen in the past 50 years that have ended in disaster. See the dot-com boom and bust, and even the recent financial crisis, brought about by reckless spending and loans. In the end, this kind of spending is just not sustainable in the long run.

Even if this does not come to pass, it is still entirely possible that FIFA may seek to introduce restrictions on spending in order to balance out the unfair advantage that certain teams have. They have already introduced restrictions into foreign players that each team can have in an attempt to curb ridiculous spending on world stars by the top three or four teams, this seems a logical next step.

In this case it would seem that Arsenal is setting itself up quite nicely for the eventual crash of this current spending bubble we are in. Instead of seeking dubious Russian roubles or American dollars they have invested wisely in a new stadium, which they hope will pay itself off several times over in the coming years. If the worriers are right and the era of big big spending tycoons comes to an end, then Arsenal will be ideally set up to take advantage of this. It's a risky move, but one that might well pay off in the future for Arsenal.