Monday 23 January 2012
Welcome back. We hope you enjoyed our preview of the most exciting movies of 2012, and judging by our analytics it looks like you did! Today it is time to look at one of the other great passions in life, music.




This year we're changing the format a little bit; rather than two distinct lists of albums from new and returning bands we will be going with a simple top 10 list combining the best of both. Be sure to take the precise order with a pinch of salt as it will be based on a myriad of factors including quality, intrigue, and how likely we are to actually see the release in 2012. Rest assured though, every entry on this list has more than earned it's place.

So behold, here is the top ten list of albums to keep an eye on in the coming year, starting with number 10:



10. Untitled - Bloc Party



Bloc Party return following frontman Kele Okereke's ill advised dalliance in solo work. Will it be a return to form for one of Britain's brightest musical products of the last 10 years?

Known for their classic hits such as I Still Remember and Banquet, hype for the band has nevertheless cooled off to a certain extent in recent years following a mediocre third studio album and years of absence since.

Fortunately a nice restful hiatus can do the world of good for a band, and we can only hope that 2012 marks the return of a very fine group of performers indeed. Release date is slated optimistically for 2012, but there is a chance this may yet slip.

Release Date: TBA 2012


9. MGMT - MGMT



One of the Ephemeric's hotly tipped bands of 2008, MGMT's debut album Oracular Spectacular brought the band what some might describe as crazy success. Songs like Time to Pretend and Kids will be etched into the memory for a long time to come, and expectation will surely follow from here on in.

This is exactly what happened with their follow up, Congratulations, wherein the band decided to raise a middle finger to expectation and record a rather more experimental, non-commercial, and some might say self-indulgent album.

Going back to basics with their self-titled third album, and with decidedly more intrusive oversight from the record label if stories are to be believed, MGMT describe their new material as "fun and rewarding". Beyond this it's anyone's guess what direction they will take this time, and whether the band can bring back some of the more fickle hype fans they scared away last time. Either way be sure to expect psychedelia aplenty, with insightful and most likely self-flagellating lyrics.

Release Date: TBA 2012


8. Youth - Simian Ghost (New band)



Our first new(ish) band on the list. Simian Ghost did in fact release a moderately received debut album last year but that hasn't stopped them from pencilling in an audacious follow up only a year later, and from what's been heard so far it looks like the latest Swedish wunderband might be ready to move onto big things.

The Guardian has called new album Youth an early contender for album of the year, and other early coverage has been similarly bright. Listen to first single Wolf Girl and judge for yourself.

In this humble braggart's opinion, if the rest of the album is as lush and melodic as the single, then all signs point to excellence.

Release Date: March 5th 2012


7. Shallow Bed - Dry the River (New band)



Another new band, Dry the River are already moderately well known in the United Kingdom following two successive years of playing Glastonbury and touring, and recently featured in the BBC's "Sound of 2012".

After an apparently fierce bidding war, debut album Shallow Bed will finally see release this Spring. Expect an eclectic assortment from a group that's as comfortable with Killers-style anthems as Mumford and Sons style semi-acoustic melodies.

For a perfect example of this see two songs from the upcoming album: the fairly badass New Ceremony, and the rather more down-tempo No Rest. Could get interesting, keep an eye on it.

Release Date: March 5th 2012


6. Born to Die - Lana Del Rey (New band)



Lana Del Rey seems to be all the rage right now, with many critics including the Sunday Times naming her delicious piece of noir-pop Video Games as one of the songs of the year.

It remains to be seen if the rest of Born to Die will live up to its first single, but here you have a good looking girl with a great voice, and buckets of hype. Whatever happens, the Ephemeric radar predicts this album to be big, and the Ephemeric radar is rarely wrong.

Release Date: October 26th 2012


5. Untitled - Goldfrapp



Genuine chameleons of the electro-pop world, Goldfrapp has dabbled in everything from Kylie Minogue-esque neon to ambient acoustic serenity and even 80s dance anthems.

With their new as yet untitled album they could revisit any of these styles or head some place completely new. If the first song revealed, Melancholy Sky, is any indication however, we might be in for a touch of the same down-tempo delights of previous album Seventh Tree.

The exact release date is unknown, but fingers crossed we see it in 2012.

Release Date: TBA 2012


4. Untitled, and Kisses on the Bottom - Paul McCartney



Former Beatle and elder statesman of Rock and Roll Paul McCartney returns for his fifteenth studio album. Kisses on the Bottom will contain a mix of covered jazz classics and new material, and feature collaborations with the likes of Eric Clapton and Stevie Wonder.

But in addition to this he will apparently also be releasing an as yet untitled album which promises more of the pop stylings he is known for. Frankly I'm excited about both prospects, and we are making them joint 4th place on this list.

Honestly there's little else that can be said about McCartney that has not been said already. The man has earned his status as one of the finest songwriters of all time with a career spanning 50 years and going strong. If these match up to his last release in 2008 under the name The Fireman then we are in for a treat.

Release Date: TBA 2012, and February 7th 2012


3. Port of Morrow - The Shins



Following some time off working on a few rather excellent side projects, James Mercer is finally returning to the band which made him famous, The Shins, for their first studio album in five years.

It's hard to guess what's in store for Port of Morrow from a band known for producing such varied and eclectic sounds, from the acoustic stylings of New Slang to the 1960s psychedelia of Girl Inform Me and the more traditional indie rock of Phantom Limb.

So far just the one new song, titled Simple Song, has been revealed and it kinda rocks. As such I have pretty high hopes for this album when it is released come the Spring time.

Release Date: March 20th 2012


2. Battle Born - The Killers



Alright now we are talking. The boys have returned from hiatus and their various solo efforts, and they are recording a new album. That's right, arguably one of the biggest new bands of the last 10 years, The Killers, are back. I mean, do I really even need to post a link to Mr. Brightside or All These Things I've Done? Didn't think so, but I did it anyway.

Little is known of the new album, tentatively titled Battle Born, except that it will supposedly mark a return to the more guitar-based milieu a la Hot Fuss. The band are well known for mixing things up and playing with different styles and inspirations though, so expect something that is nevertheless fresh.

So far the only new song to be heard is this rough around the edges live recording of The Rising Tide, sounding in this man's humble opinion a bit like a cross between the Springsteen-esque style of Sam's Town and Hot Fuss. Not a fan of the new haircut, and Brandon needs to watch out for those high notes, but still looking forward to this album.

Release Date: Summer 2012


1. Untitled - Passion Pit



And this year's number one most highly anticipated album sees the return of another former Ephemeric success story. Passion Pit were a hotly tipped new band back in 2008 when their early EP did the internet rounds and generated immense buzz, and were essentially the hype band of 2009.

No doubt many of you will recognise ubiquitous songs like Moths Wings and Sleepyhead. Now Passion Pit returns with their as yet untitled follow up album, originally due for release last spring, but delayed until 2012. Expect more of the same lush, euphoric melodies and addictive, impossibly uplifting production, plus the invaluable added benefit of experience.

Described by frontman Michael Angelakos as "beautiful, exciting and fun", so far the only taste we've got of new material comes from this sweet live recording of American Blood. Early days yet and no word on precisely when it will see release, but this one is looking pretty special.

Release Date: TBA 2012



Honorable mention must go to new albums from British hip hop artist extraordinaire M.I.A. as well as the experimental electronica of Crystal Castles and in particular a rather promising sounding debut from the acoustic stylings of Michael Kiwanuka which was unlucky not to make it onto our top 10.

Lastly there is also a rumour that Mercury Prize winner (and former Ephemeric hot tip) The XX may be on the verge of releasing a follow up album in the next year. Sadly I'm pretty skeptical that this will actually happen, and so they miss out on a top 10 spot they would otherwise easily have earned.

Tune in next week for the best upcoming video games of 2012!







Saturday 14 January 2012
Ladies and gentlemen, welcome to 2012. Now that the new year has had time to settle in, take its shoes off and make itself at home, I think it's about time to start having a look at what awaits us over the next 12 months. We begin with our in depth look at 2012 in films.




This list looks at films released after the deadline for the 2012 Oscars. As with every year, we can only express our condolences to top films like the Artist and the Descendants which open during the awkward lapse between the end of year Debbies and the Oscars. Sadly they will not be considered on this list as "2012 films" despite their apparent excellence and 2012 release date.

So behold, here is the top ten list of key films to keep an eye on in the coming year (trailers linked in the title where available), starting with number 10:



10. The Great Gatsby



This could be a bit special. F. Scott Fitzgerald's classic novel is being brought to the big screen again, this time courtesy of director Baz Luhrmann and starring the likes of Leonardo DiCaprio, Carey Mulligan and Tobey Maguire.

With the array of talent involved in this project great things are to be expected, and the Christmas day release date suggests they mean business.

It will be interesting to see how Luhrmann approaches this film given his track record for heavily stylised, overly sentimental romantic films, but it might just be a perfect fit for him. DiCaprio meanwhile will be hoping to make up for the likely disappointment of not winning the Oscar this year for J. Edgar (yeah I'm calling it) and Mulligan, who is pretty much the hottest up and coming young actress in Hollywood, may finally find the role that takes her to the next level.

Release Date: December 25th 2012


9. Les Miserables



The legendary musical will finally get a proper musical film adaption, and now I'm going to tell you why that's something to get excited about. Les Miserables is the longest running musical in the world, based off Victor Hugo's timeless novel, and 1998's mediocre non-musical adaption not withstanding has never had a proper film interpretation.

That's going to change now, with none other than King's Speech director Tom Hooper at the helm, and an all-star cast including Hugh Jackman (fresh from his smash hit show on Broadway), Russel Crowe, Anne Hathaway, Eddie Redmayne and Helena Bonham Carter.

Sweeney Todd showed us that musicals can still be taken seriously by the Academy if done well, and this production has more than enough pedigree to make that happen.

Release Date: December 7th 2012


8. Prometheus



Ridley Scott is back and so is the Alien franchise (kinda, sorta, not really), although not in name. This is technically a loose prequel to Alien, however it is intended to be taken as a standalone story, almost entirely unconnected to the Alien movies.

The plot details are a bit thin at the moment, but Prometheus stars Noomi Rapace, the up and coming Michael Fassbender, Guy Pearce, and Charlize Theron, who between them have tallied a number of great movies and numerous awards.

Some pretty top talent involved then, with creative control in the hands of one of the directors who pretty much invented modern sci-fi. Expect this to be pretty big when the summer blockbuster season comes around.

Release Date: June 8th 2012



7. World War Z



After a long bidding war and production issues going back over five years, Brad Pitt's zombie baby is ready to make an appearance.

Mind you this is no ordinary zombie movie. World War Z is based on a best selling novel, directed by Oscar winner Marc Forster and starring Pitt himself, with a cast that includes Matthew Fox and Bryan Cranston.

It may not be the next 28 Days Later, or up for awards in 2013, but all signs point to this being one heck of a ride, with some pundits speculating that this film could do for zombie movies what Blade Runner did for sci-fi.

Billed as a trilogy grounded in the realistic gun-metal style of the Bourne series tethered to the unsettling end-times vibe of the Walking Dead, keep an eye on it.

Release Date: December 21st 2012



6. Skyfall



James Bond returns for our next entry, hoping to atone for the misstep that was Quantum of Solace. Skyfall happily breaks away from the story arc of the last two entries in the series for a bit of original storytelling, which sees Bond fighting for the very survival of MI6 and in particular Judi Dench's maternal "M".

Daniel Craig makes his third and allegedly final appearance as James Bond alongside a cast that includes Oscar winner Javier Bardem and Ralph Fiennes.

But the real news here is that legendary director Sam Mendes is directing. Those of you who don't remember Mr. Mendes from his time as artistic director of the Donmar theatre will certainly remember his Academy Award winning work with American Beauty and Road to Perdition, as well as his other films Jarhead and Revolutionary Road.

Here's hoping that this one will be a bit more Casino Royale, and a bit less Quantum of Solace. For now though there is plenty of reason to be excited.

Release Date: October 26th 2012


5. Gravity



Another highly mysterious project about which very little is known. What we do know is that Gravity is a thriller about astronauts who get stranded on the International Space Station after some kind of disaster, and that it will star this year's current favourite to win the Oscar George Clooney as well as previous Oscar winner Sandra Bullock.

The other big piece of info is that this film will be directed and written by Alfonso Cuarón, best known for his Oscar nominated work on the brilliant Children of Men. I'll be honest, the only reason this film is so high on this list is because that was such an excellent movie.

Little additional info has been made available, but the insider buzz on this one is quite positive, certainly one to keep an eye on.

Release Date: November 21st 2012


4. The Dark Knight Rises



What more can be said about Chris Nolan's Batman films that haven't already been said? Dark Knight Rises marks the end to this trilogy and the end of an era.

Of course the likes of Christian Bale, Gary Oldman, Morgan Freeman and Michael Caine will return, and this time they are joined by Tom Hardy, Joseph Gordon-Levitt, Anne Hathaway, and Marion Cotillard. That's an extremely well stocked cast.

It remains to be seen if this can match the runaway success of its predecessor the Dark Knight, but either way the level of talent involved is undeniable, and with Chris Nolan at the helm anything is possible. This trilogy looks set to go out with a bang.

Release Date: July 20th 2012


3. Django Unchained



The unmissable Quentin Tarantino returns with his next film following the success of Inglourious Basterds. As with most of his films, details are being kept tightly under wraps, but it's safe to say we can expect the usual mix of violence, great acting and sharp dialogue.

A typically all-star cast includes Joseph Gordon-Levitt (who appears to be doing a Ryan Gosling and appearing in everything this year), Leonardo DiCaprio, Samuel L. Jackson, Christoph Waltz, Kurt Russel, Jamie Foxx, and interestingly Sacha Baron Cohen. It's a fantastic cast, featuring a lot of old Tarantino favourites and an abundance of award winning talent.

Not much is known about the plot except that it's about slavery, set during civil war times in the American south. Tarantino himself describes it as a spaghetti western set in the south, or as he calls it a "southern".

Release Date: November 20th 2012


2. Lincoln



This one is actually pretty difficult to talk about without molten Oscar gold dripping out of your mouth. Steven Spielberg directs this biopic of Abraham Lincoln, one of America's greatest historical figures, starring Daniel Day-Lewis, who has allegedly been in character as Lincoln since last summer.

Between the two of them they have more than a dozen Oscars and they are backed by an impressive ensemble which includes Sally Field, Tommy Lee Jones, and Joseph Gordon-Levitt (seriously, he's everywhere!).

I don't have to see a single frame of footage to know that this film is going to be in the running for awards this time next year. It's hard to believe that it took this long to make a big budget film about our 16th President, but if any film maker is up to the task it is Spielberg, despite his disappointing 2011.

Release Date: TBA Q4 2012


1. Cloud Atlas



The most intriguing entry on this list is the long mooted film adaption of David Mitchell's challenging and complex best selling novel. A profound telling of six interlocking story arcs that span generations and geography, it sounds like the sort of subject matter that can't possibly be adapted for the mainstream.

Enter the Wachowski Brothers. Best known for making high school philosophy into a mainstream blockbuster with the Matrix, revolutionising the action genre in the process; if anyone can turn Cloud Atlas into something presentable it's them.

Add to that a great looking cast featuring Tom Hanks, Hugh Grant, Halle Berry, Jim Broadbent and Hugo Weaving, and you've got yourself the makings of something a little bit special. Let's just hope this doesn't go all Matrix Revolutions on us.

Release Date: October 2012



This is just the cream of the crop, but an honorable mention should go out to The Avengers, which forms the culmination of the recent deluge of Marvel franchise films, and Men In Black III, which will probably be absolutely awful, but still deserves a watch through merit of the original film. Meanwhile on a more serious note we have The Master, a controversial commentary of all things on Scientology starring Phillip Seymour Hoffman, which has not been included on this list because it may not even come out in 2012.

Tune in next week for the best upcoming music of 2012!
Sunday 8 January 2012

Directed by Michel Hazanavicius
Written by Michel Hazanavicius
Produced by Thomas Langmann
Starring Jean Dujardin, Bérénice Bejo, John Goodman
Running time 100 minutes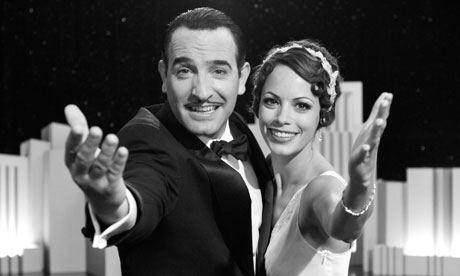 So maybe this hasn't been the most exciting year for cinema in recent memory. Maybe there's no King's Speech or Avatar, but when February rolls around the Academy will still have plenty of traditional Oscar fare to contend with like War Horse, the Descendants and the Help.

Yet it isn't any of these that is currently considered the frontrunner for the most coveted of film awards, that honor belongs to a french silent movie shot in black and white, starring and directed by complete unknowns. It might just be one of the strangest and most unexpected awards campaigns of all time, but the Artist has captured the zeitgeist of critics and movie patrons the world over, and heads into 2012 as favorite for the big finish.

Naturally I was curious as to how such a thing could be possible, and made sure to book tickets for opening night, which just happened to be my birthday. I'm pleased to say that I can now understand why such an oddball of a movie has elicited so positive a reaction, this film easily surpassed my expectations.

First of all: yes this film is (almost entirely) silent, with scenes backed by a continuous score, rarely any diegetic sound, and dialogue displayed sparingly with intertitles. The Artist is a love story for sure, but the real meat of the plot lies with the tormented silent movie star whose dumb pride and stubborn ways render him unable to cope with the changing times in Hollywood. The Artist is a tender homage to the early days of cinema, and particularly the period of transition between silent movies and "talkies", but any fear that this aesthetic is merely some self-indulgent gimmick is quashed within the first few minutes.

As hard as it may be to believe, I was glued to the screen for the entire film, absorbed into the moment in a way that few recent films have managed. The Artist is uproariously funny, perfectly acted (not least of all by a scene-stealing terrier), at times heartrending, and always sublimely stylish to look at.

It turns out there is an art to conveying story and emotion using the minimum dialogue. While we like to think of such a style as some archaic relic from the silent era they still form some of cinema's most eloquent and affecting moments, from 2001 to Cast Away to Wall-E. There's a surprising amount that can be said without words. The Artist uses that effect better than any of these films to the extent that, far from a gimmick, this heavily stylised tone actually adds to the content of the film. It also doesn't hurt that the score which accompanies almost every second of the film is so excellent.

So is it really a contender for best picture in February? Most definitely. The Artist is one of those films which grows even fonder in memory; certain scenes are so brilliantly clever and well executed that they border on cinematic perfection. The spellbinding and utterly committed best-actor-at-Cannes-winning performance of Jean Dujardin is also almost certain to earn a nomination, though halting the Clooney buzz that seems to be building will be a tall order, no matter how deserving.

Yet at the same time the Artist is a film that in hindsight might look strangely lightweight next to other winners of the coveted best picture. This is not a "deep" movie, it doesn't tell any groundbreaking story that hasn't been done before, and on the grand scheme of things it doesn't have anything pivotal to say. The Artist is simply an exceptionally well made encapsulation of Hollywood and everything that people love about movies. It captures the devoted torment and the unbridled joy of an artform, and it does so in a way that is simply absorbing for the moviegoers.

Skeptical? I was too, but give this a go and the irresistible charm will suck you in and win you over.



Loves:
Extraordinarily clever filmmaking
Tour de force performances
Daring and ultimately vindicated stylism

Hates:
That skeptical patrons may not give this a shot